INSTALLATION METHODS VIDEOS
Smooth Body For Excellent Dust-proof
In humid farm, corrosive vapors from animal excrement and excessive dust will excessively easy to accumulate to the lighting. In nowadays farms where epidemic prevention and hygiene are particularly important, the smooth lighting body brings great convenience to the work of cleaning and disinfection.
A sudden change of lighting has proved to frighten the chicken because chicken eyes are more sensitive to light than human's. With matched dimmer, multi lamps could be controlled at the same time to influence the chicken behaviors. Natural sunrise and sunset simulation greatly enhance the chicken's welfare.

Unique Design For Reliable Heat Dissipation
Hybrite uses pure aluminum as heatsink. Ensuring the smooth housing, the heatsink transmit heat from LED chips to the air effectively thanks to the unique design of the cooling structure. It guarantees slow light decay and long life span of the lighting, leading to little maintenance visit. 
Hybrite LED bulbs and Linears have suitable small body size, ensuring convenient transportation, storage and installation.

Full spectrum has proven early in 1987 to have great impact on the chicken. With red, green and blue color to be used in farms, chicken performance is maximized, while aggressive behaviors are minimized. Therefore, broad spectrum is essential to enhance the meat and egg quality and production.
Poultry houses should regularly be cleaned with high-pressure water to flush the equipments, walls, ceiling and ground, wasing away the dirt attached to them. This requires the lighting to have solid housing and good waterproof performance. Our lightings are designed and produced to meet these requirements.
Normal LED lighting often have holes and fins on the lamp body due to heat dissipation. This structure is prone to dust, cobwebs, dirt and remains, which are not easy to be removed. These things will become the carrier of pathogenic bacteria. Under certain conditions, these pathogenic bateria become the source of infectious diseases. Our poultry lighting has very smooth body with no hard-to-reach spot to hide dirt.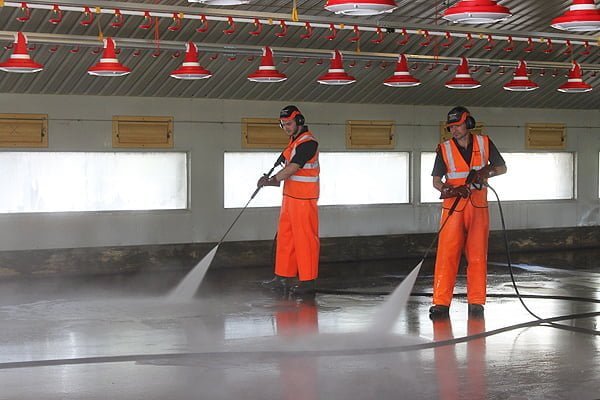 Our poultry lighting is made of PC and aluminum. In the process of cleaning and disinfection, detergent and disinfectant will adhere to the surface of lighting body in large quantities. In regular time, ammonia and other corrosive gases are heavy in the poultry shed. These require the lighting to have good anti-corrosion features.